Being in the services does not mean you stop all contact with the outside world.
You still have to deal with people and organisations not connected to the Forces.
Sometimes those dealings can go wrong and you need to protect yourself.
Contact us day or night on 01452 720827 / 07977 597709 for FREE immediate professional legal advice.
We can assist you with bringing and defending an action in the civilian courts. This can include matters such as neighbour disputes, contract issues, consumer agreements, hire purchase agreements, or any other matter.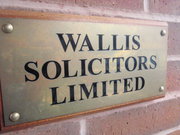 Military life need not prevent you from enforcing and protecting you interests. We are here to help should you need us. Contact us on 01452 720827.